Access counter started in 7/17/1997
News
♦ The Fifth RIKEN BRC-Nanjing University MARC Mouse Resource Workshop 2016 (2016.05.11 T.M.)
(Application Deadline: July 15, 2016)
♦ Genius method to get rid of the target protein with human culture cells (2016.03.25 K.N.)

Now available the plasmid for the system of Auxin-indusible degradation (AID) tag of your target protein in human cells from RIKEN BRC.
Reference
Natsume, T., Kiyomitsu, T., Saga, Y., Kanemaki, M.T.
Rapid Protein Depletion in Human Cells by Auxin-Inducible Degron Tagging with Short Homology Donors.
Cell Reports 15: 210-218, 2016. PMID: 27052166.
Deposited resource
pMK232, pMK243 and the guid-RNA expression vector for AAVS1 locus in Figure 3 and 18 clones in Figure S6.
♦ Draft genome sequencing of more than 120 strains of eukaryotic microbes (Japanese text only) (2016/03/01)
♦ Genome sequencing of JCM strains under the NBRP program (Eukaryotic microbes) (2016/02/29)
♦ Clontech Laboratories, Inc. and RIKEN BioResource Center concluded license agreement on preservation and distribution of Fluorescent Proteins, DsRed2 and mCherry for academic use (2016.02.17 T.M.)
♦ Poly(A) addition to Cas9 in vitro transcription vector improves genome editing efficiency - Break through of knock-in mouse generation. (2016.01.22 T.M.)

T7-NLS hCas9-pA (cat# RDB13130, Yoshimi, K. et al., 2016) is now available.
Reference
Yoshimi, K., Kunihiro, Y., Kaneko, T., Nagahora, H., Voigt, B., Mashimo, T.
ssODN-mediated knock-in with CRISPR-Cas for large genomic regions in zygotes.
Nat. Commun. 7:10431 doi: 10.1038/ncomms10431 (2016).

Press Release
New methods of enhancing efficiency of genetic engineering in mice and rats developed
Deposited resource
T7-NLS hCas9-pA (cat# RDB13130)
Dnaconda's Recommendation
Mutation analyses of genes on 6p12-p11 in patients with juvenile myoclonic epilepsy. (2016/4/12 K.N.)
Authors had been narrowed down to 3.5 cM size on a region of short arm of chromosome 6 (6p12-p11) as the genomic region (EJM1) related to juvenile myoclonic epilepsy (JME).
In this paper, they explore to find genes critical to the symptom. First of all physical mapping of 3.5 cM EJM1 was done. Then based on the map, 14 genes in EJM1 from patient family and from healthy family was analyzed. In the process, several YAC clones provided from our division was analyzed by STS-PCR and used for the reference to line up the BAC/PAC contig (assembled).
Reference
Suzuki, T., Delgado-Escueta, A.V., Alonso, M.E., Morita, R., Okamura, N., Sugimoto, Y., Bai, D., Medina, M.T., Bailey, J.N., Rasmussen, A., Ramos-Peek, J., Cordova, S., Rubio-Donnadieu, F., Ochoa, A., Jara-Prado, A., Inazawa, J., Yamakawa, K. Mutation analyses of genes on 6p12-p11 in patients with juvenile myoclonic epilepsy. Neurosci. Lett. 405 (1-2): 126-131, 2006.
DNA Resource
CEPH MEGA YAC clone
(771C3, 786E1, 834B12, 858B11, 918A11, 938C3, 961C3)
Resource information
♦ Genes involved in the DNA repair(2015.10.07 T.M.)

Genetic resources for genes involved in the DNA repair are available.
Looking forward to receiving your request. [Click here]

♦ Getting BioResources through the PubMed! (2015.07.10 T.M.)
♦ The KEGG (Kyoto Encyclopedia of Genes and Genomes) database of pathways and orthologs among human, mouse and fission yeast are now linked to our clones and can be searched by users. Click here!
♦ Quality Examination and Information Release Policy on Our Bioresources (2014.09.01)
♦ Gene-constructed Recombinant Adenovirus!
♦ Genomic DNA - Be free from cultivation and breading!!
Announcements
♦ Prepayment of distribution fees (overseas organizations only)
♦ Ms. Ayumi Hasegawa of Bioresource Engineering Division has won the JRD Outstanding Paper Award (2014/10/23)
♦ Dr. Rikiya Endoh of Microbe Division (JCM) has won The 7th ANRRC International Meeting Best Poster Award (2014/10/23)
♦ <! href="http://en.brc.riken.jp/consulting/kensyu_dna11.shtml">Lecture and demonstration for handling recombinant adenovirus (2015.10.15 T.M.)
♦ Establishment Anniversary Closing (2015.10.05 T.M.)

Our office will be closed for the establishment anniversary on October 26th (Mon.).
Thank you for your understanding.

♦ Perspectives: Banking on biological tools for research innovation (2014.09.27)
♦ New Information from RIKEN BioResource Center
RIKEN and all those who have deposited materials or information are not liable for any harm to any individual that might arise as a result of the use of any resources or informaion in the RIKEN databases anywhere in the world.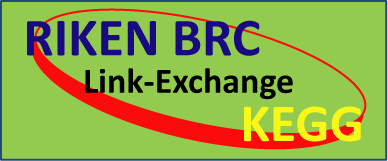 Link to KEGG

GNP Human Full-Length cDNA

C57BL/6N (B6N) BAC

Empty Backbone Vector